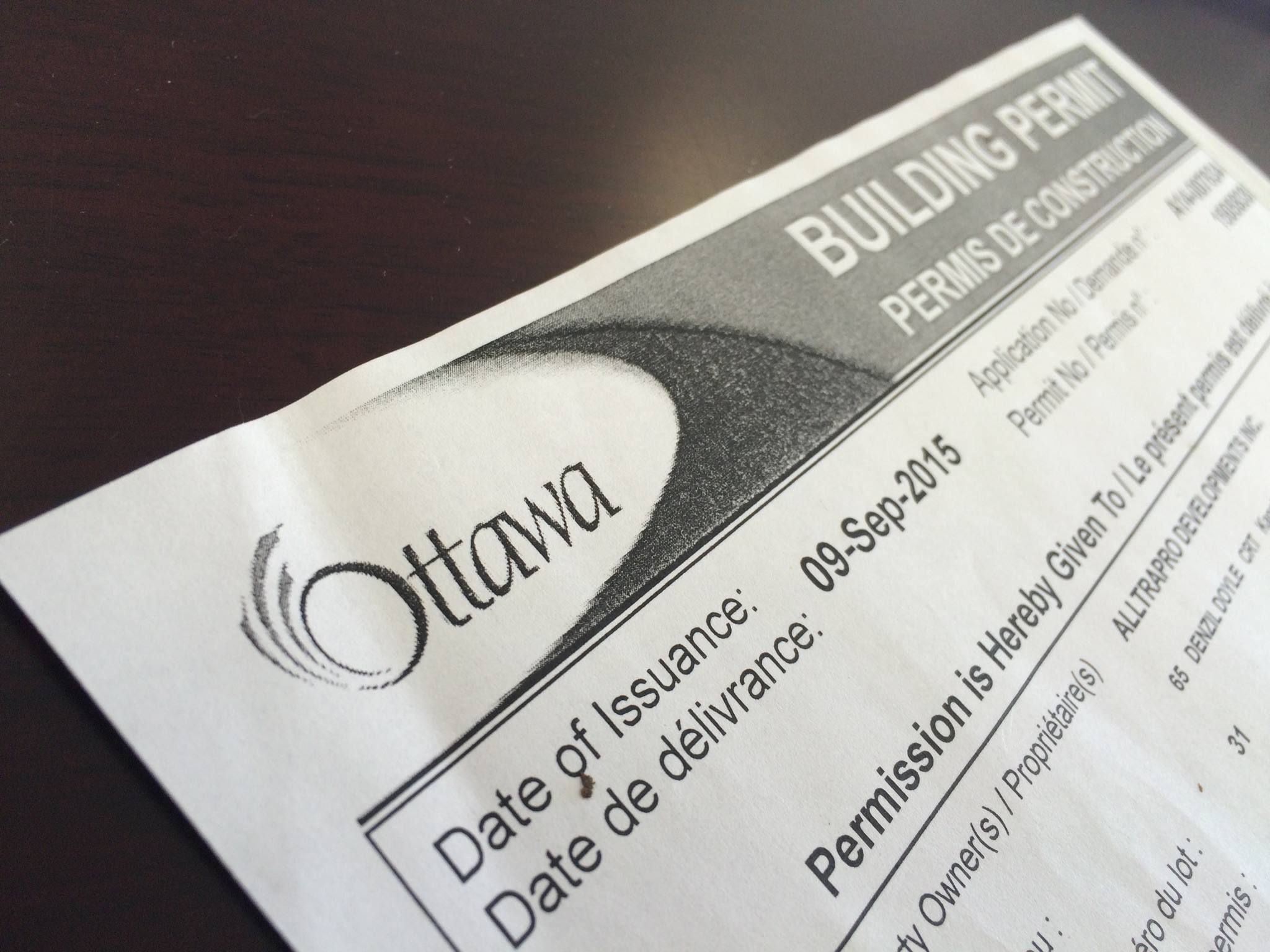 When beginning a new project most people are aware that you will need to obtain a building permit "for the construction of a new building" or for "an addition or alteration of any building or structure with a building area of over 10 square meters (approximately 108 square feet)" http://ottawa.ca/en/residents/building-and-renovating/do-i-need-building-permit/projects-requiring-building-permit .
However, many first time builders are less clear on the other inspections and permits that may be required during the process of building your foundation. Below we have outlined some of the more common inspections and permits that might also be necessary:

Soil Capacity Test
This test is performed by a soil engineer (hired by you) before the foundation is built. This will determine the ability of the soil to bear the weight of eventual foundation and house. Typically a range from (75 to 100kpa) is acceptable for a residential foundation. Depending on the results of your soil capacity test, an engineer might need to alter your foundation footings in order to spread weight load over a wider area. With loose clay soils typically being the most problematic.
Pre-Pour Inspection of Footing
It is likely that the city or township building inspector will request to inspect the foundation footings after they have been formed but before concrete is placed. This inspection is to ensure that the footing has been built on undisturbed native soil that is free of standing water and organic material and is therefore un- likely to shift or compact over time. This inspection must be booked (by you) with your city/township building inspector with 24-48 hours-notice. Our office can provide an estimate on when we expect footing formwork to be complete. If the building inspector arrives on site when our work crew is still there, we can generally pour the footings straight away.
Pre-Backfill Inspection of Foundation
This inspection is performed after the foundation walls, damp-proofing, drainage membrane, drain-tile, crushed stone and any wall insulation are complete but prior to any backfill material being placed. This inspection must be booked (by you) with 24-48 hours-notice, with your city/township building inspector. Our office will advise you on when your foundation will be ready for this inspection.
Pre-Pour Floor Inspection
The city/township building inspector might want to examine and approve any underground or rough in plumbing before your basement floor is poured. The inspection is to ensure correct installation and slope of your plumbing pipes. This inspection should be booked (by you) and should take place before our work crews arrive to level stone, apply plastic vapour barrier and place any required insulation. If you are installing a radiant heat system in your basement floor you may require a separate inspection of your radiant pipes before the concrete is placed and finished. This process may require pressurizing the piping to ensure that there are no leaks.
Other Permits/Inspections
Steel rebar inspection
Occasionally, (if your engineer has created an engineering detail to address site conditions), a separate inspection of the steel rebar placed in a footing, wall or suspended slab before the concrete is placed may be required.
Encroachment Permit
In order to build your foundation we will need to use a variety of heavy equipment including:
- a concrete pump (to place concrete in the footing and walls),
- a concrete mixer (to deliver concrete)
- a boom truck (mobile crane) – to deliver and remove concrete forms
and
- a "Stone Slinger" to deliver and install crushed stone.
It is important that there is sufficient room on your job-site (an area of approximately 40' x 25' with no overhead wires or trees) to accommodate these vehicles. If Manotick Concrete must set up any of the above equipment on a city road or sidewalk or other city property, you will require an encroachment permit. These permits must be purchased (by you) from your city/township with 48 hours-notice before the encroachment and are generally good from 1 day to several days. In certain circumstances (where walking or vehicle traffic is obstructed) flag-men, cones and additional signage may also be required. Our office will inform you in advance if we suspect that you will require an encroachment permit(s), during the construction of your foundation.
Please note that the above list is not necessarily exhaustive. Your city permit office and engineer will be able to tell you which inspections and permits will ultimately be required for your job-site. Being properly aware of the permit process and scheduling your inspections in advance will help reduce delays during construction.